Hold tight, new products are almost ready and will be added here very soon.
Continue shopping
Our stylish modern shelving
Made in our UK joinery shop, our solid timber modern shelves are highly popular and for good reason. Featuring high quality oak, pine and walnut timber, we plane and sand this style of shelving to create a smooth surface that looks fantastic when finished in our range of wood wax oils, stains and paints.
Choose your perfect modern shelf style and finish

Our modern shelving collection features a range of styles and types. The modern floating shelves that we have for sale use concealed fixings to give the impression that the shelf is "floating" on the wall, hence the name. We also use high quality iron brackets for our modern wall shelves that are available in several different styles, with more added on a regular basis.

No matter which type of bracket or fixing you prefer, we have a wide range of lengths, widths and thicknesses to choose from. From short to long, narrow to wide, and thin to chunky, we have all of the combinations of sizes that you'll need. Even in the slim chance that we don't, feel free to get in touch with us and we'll be sure to accommodate in the custom size that you want.

Whether it's a functional shelf for your kitchen, living room or hallway, or a decorative shelving unit for a bedroom or elsewhere, our wide range of timber shelving is sure to have just what you need for your home.
Why choose us for your modern shelving

Our pine, walnut and modern oak shelves are handmade by our skilled team in our UK joinery shop. We have years of experience creating beautiful shelving and furniture from solid timber, and are able to create modern shelving specific to your requirements no matter how small or large the project.

Starting with raw rough sawn timber, we carefully plane the oak, pine or walnut to ensure an all over flat and straight piece of timber in thicknesses including 20mm, 25mm, 40mm or 55mm, depending on how thin or chunky you'd like your modern shelf, though can cater to almost any thickness in-between. We then sand your timber shelf to ensure a smooth finish, perfect for applying your chosen wood wax oil.

As with our other styles of shelving, our modern style is available in different types including floating shelves, wall shelves and cube shelves. We also regularly add to our collections to introduce new types of shelving for your home. All solid timber. All guaranteed to provide superb value for money.
Sleek and stylish shelving
Our modern shelving feature straight lines and smooth finishes to create a shelving range that offers a contemporary look. Available in all of our timber ranges, our modern shelves come in a variety of different thicknesses and lengths.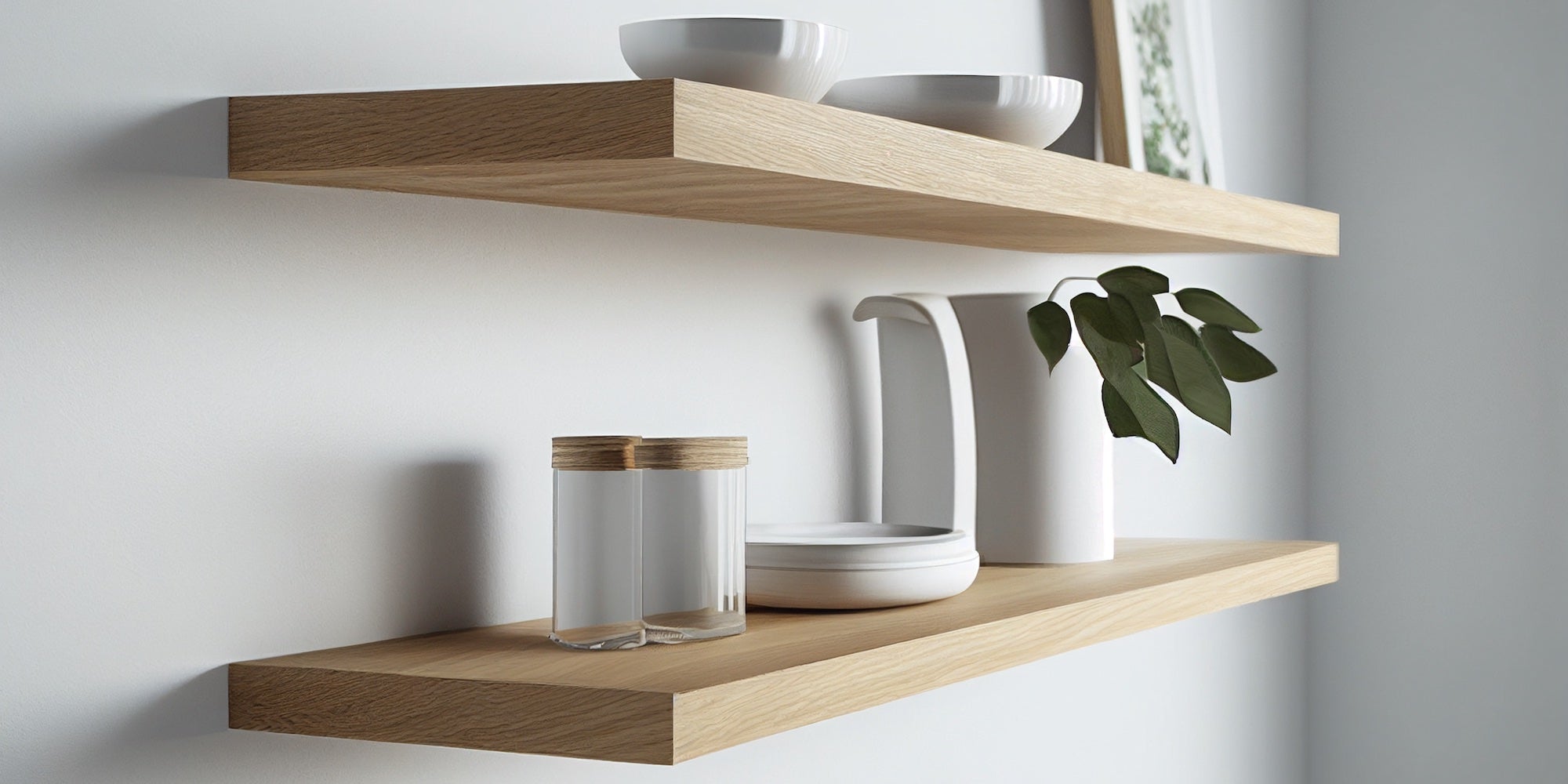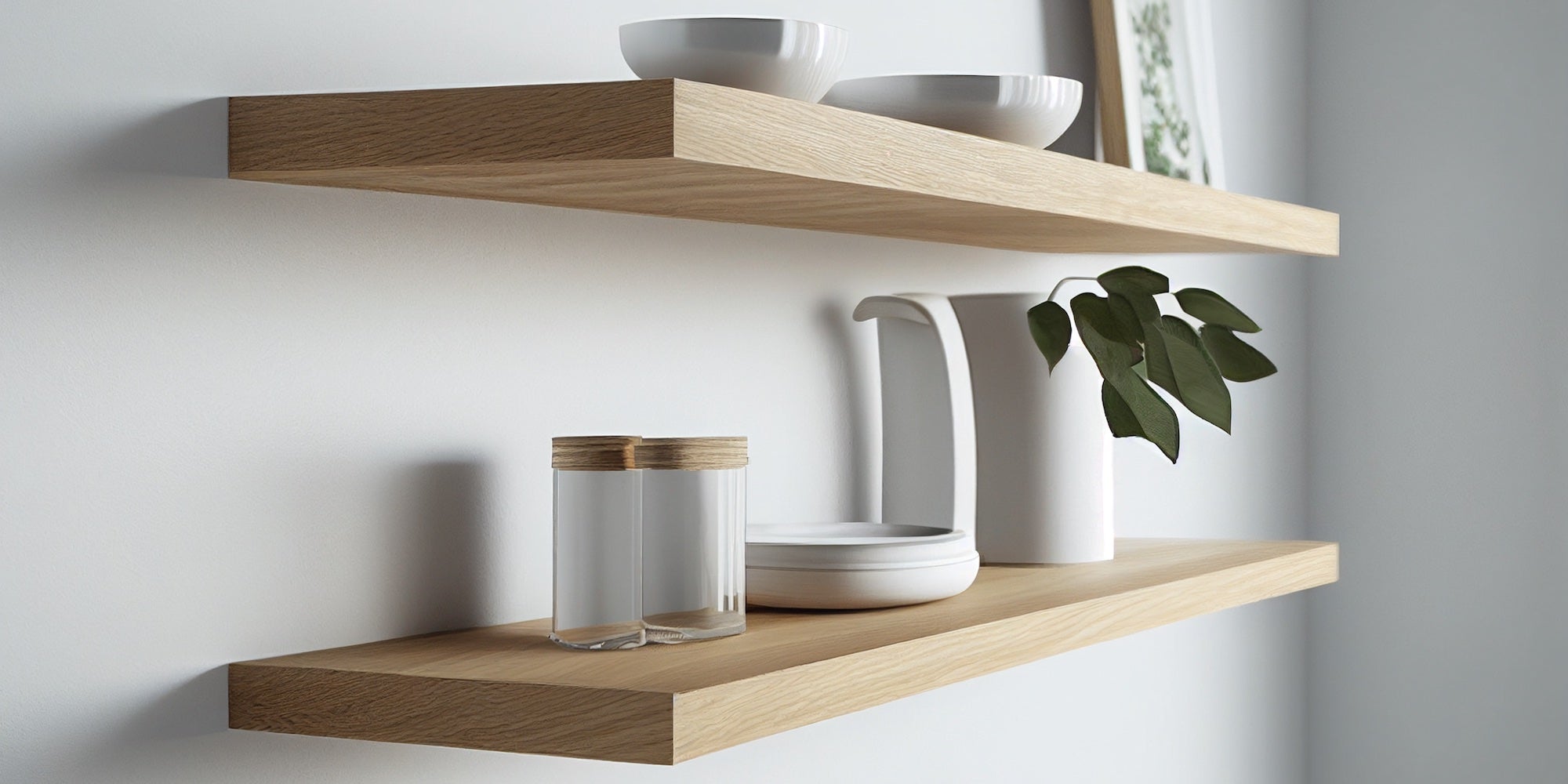 Made in the UK
We machine all of our modern shelving from start to finish here in the UK, allowing us to ensure the highest quality.
Stunning wax oil finishes
We hand-pick a number of high-quality wax oil colours to offer variety to our customers.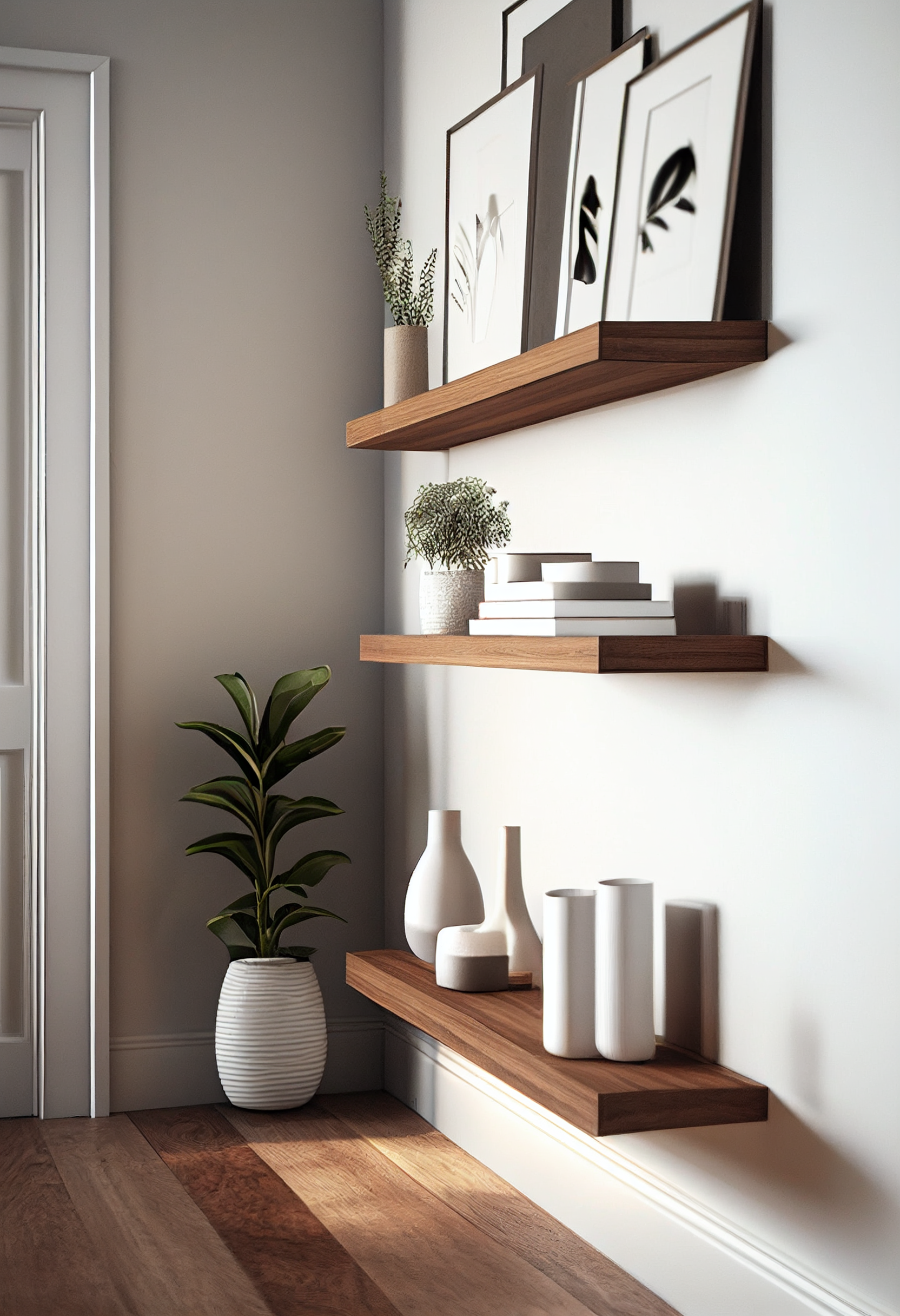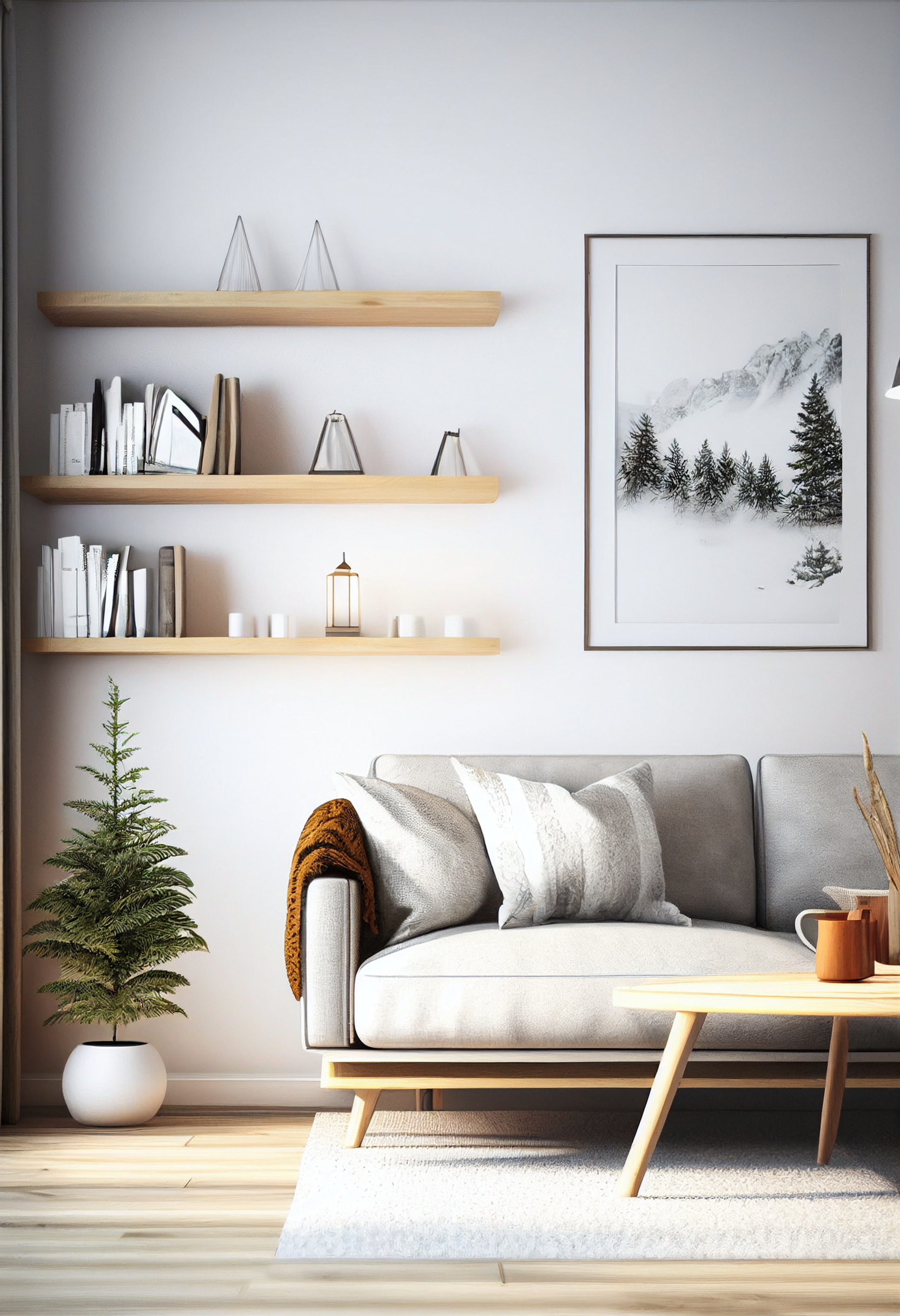 Contemporary styling
The complete modern shelf
Choose from our range of modern shelving sizes and finishes, then select your ideal wall fixing. All shelves are available as floating shelves, standalone wall shelves without brackets, or with our selection of brackets.

Whether it be for a modern wall shelf design using several shelves, or single units for the kitchen or hallway we can cater to specific individual requirements, with almost no limit on size or style.
Custom orders
Bespoke modern shelves
Customise any of our modern wall shelves to your exact dimensions. All product pages include the option to choose a standard size and have us trim to exact measurements completely free of charge. The perfect custom modern shelf!

Have an awkward space you'd like to fill? Our bespoke options allow for easy ordering of alcove shelves or modern corner shelves in the exact length, depth and thickness you need.