Hold tight, new products are almost ready and will be added here very soon.
Continue shopping
About our wooden wall shelves
Our highly popular wall shelves are machined from only the finest quality solid timbers. We offer a large variety of options in sizes, colours, and styles, helping us to lead the way in solid wooden wall shelving.

Based in the UK and manufacturers of our own solid wood shelving we can also facilitate made to measure wooden shelves for our customers who require custom sizes.
Why choose us for your solid wall shelves?

Having spent the past several years crafting beautiful wooden wall shelves, our collection has developed into a wide range of shelving styles and sizes to suit enough any room, whether it be a kitchen, bedroom, living room or anywhere else around the home. From our combination of shelf lengths, widths, thicknesses, styles and finishes we pride ourselves on offering exactly what our customers are looking for.

More often than not, the choice of timber wall shelf will be down to personal preference, though sizes (specifically length and width) will depend on the location of where you plan on fitting your shelves. For example, existing furniture or walls can limit the size you can opt for (though our custom sizing eliminates this issue). The style and thickness are options that you have much more control over using standard options.

Among our range are several options in terms of thickness and also style. Without going into detail about custom orders (where sizes can be to suit), we have several standard thicknesses of wall shelves for sale; including slim, thick and chunky sizes. Our ultra-thin timber shelves are finished to a 20mm (2cm / 0.75") thickness, which whilst being the thinnest in our range, still provides sturdiness and fantastic visual appeal, whilst perfect for those looking for slimline shelves made from stunning solid timber.

Our next option is a slightly thicker 25mm followed by the thick 40mm (4cm / 1.6") wall shelf, which at double the thickness of our slim shelving range will be a beautiful solid piece of timber, crafted to emphasise the natural beauty that the individual piece possesses. Then we have the thickest wall shelves in our collection that are finished to a chunky 55mm (5.5cm / 2.2"). Available in the same styles as our thin and thick shelves, our chunky wall shelves are real head-turners that are perfect for creating focal points, whether it be for decorative or practical purposes mounted in a hallway, nursery, kitchen wall or elsewhere.
Choosing among our wall shelf styles

Our softwood and hardwood wall shelves have a number of style options that you can choose from. Among these are modern, reclaimed and rustic wall shelves that have different looks and features. When combined with the natural character that wood provides and the optional finishes that can be applied to the shelves, every piece that we handcraft is truly unique. The modern wall shelf style features straight lines and smooth, sanded edges giving a contemporary look and showcases the beauty and character of the natural piece of timber.

Our rustic shelving on the other hand is styled to display an aged appearance and is available in different variations depending on how "rustic" you'd like the shelf to be. The light rustic shelf style consists of features that give the impression of a rough sawn piece of timber, including saw marks and emphasised grain detail. When combined with our high-quality wood finishes these features really stand out to make for an all-round stunning looking rustic shelf. We also have a more distressed rustic shelf range, available in all widths and thickness options. Similar to our light rustic shelving, the distressed style features uneven corners and worm hole effects and is also "roughed up" to create a weathered look that is in keeping with centuries old timber. This distressed look gives a truly vintage and aged appearance without the smooth planed and sanded surfaces that replica shelves often have.

For those after a genuine piece of history, our reclaimed wall shelves are for you. Sourced from specialist timber reclamation dealers, our reclaimed shelves can have a variety of appearances that naturally occur over time and are truly unique to each individual piece of timber. Unlike any handmade, machined shelf, genuine reclaimed shelves can show the wear and tear that only time can provide.
Finding the perfect timber and finish

Our current collections of wall shelves are crafted using hand selected solid oak, pine and walnut timber. We prioritise using beautiful timber that is fantastic to work with, and that's also going to provide our customers with a shelf that provides unbeatable value for money. We spend the necessary time and effort on each wall shelf that we manufacture to ensure that it lives up to expectations. No rush jobs or cutting corners!

The available sizes for each shelf are clearly shown on each specific product page, and we try to ensure that we cover a wide variety of size combinations no matter which type or style of wall shelf that you're after. Whether it be a small or large wall shelf that you're looking for, we have you covered either by the available size options shown or by using our made to measure service that is available for custom orders. The same can also be said for the depth/width of the shelf that you require. We have sizes of shelves from narrow to deep as standard, with custom options available too.

Although we have unfinished shelves available, which are crafted in the exact same method as our finished shelves, we also have wall shelving that is finished in a range of wood wax oils. The products that we use are carefully selected and tested to ensure that the finish is high quality, available in a range of colours from light to dark and that the finish used only enhances the overall appeal of the piece of timber used. Colour swatches and guides are available on product pages to give you an indication of the final finish and colour. Regardless of the size, style and type of wall shelf that you buy from us, you can rest assured that you're buying high quality and satisfaction guaranteed.
Standalone or bracketed shelving
In addition to our floating wall shelves, we also provide standalone and bracketed shelving, making it easy to buy shelves that are perfect for any room.

All are available in our wide range of standard sizes, or optionally custom cut.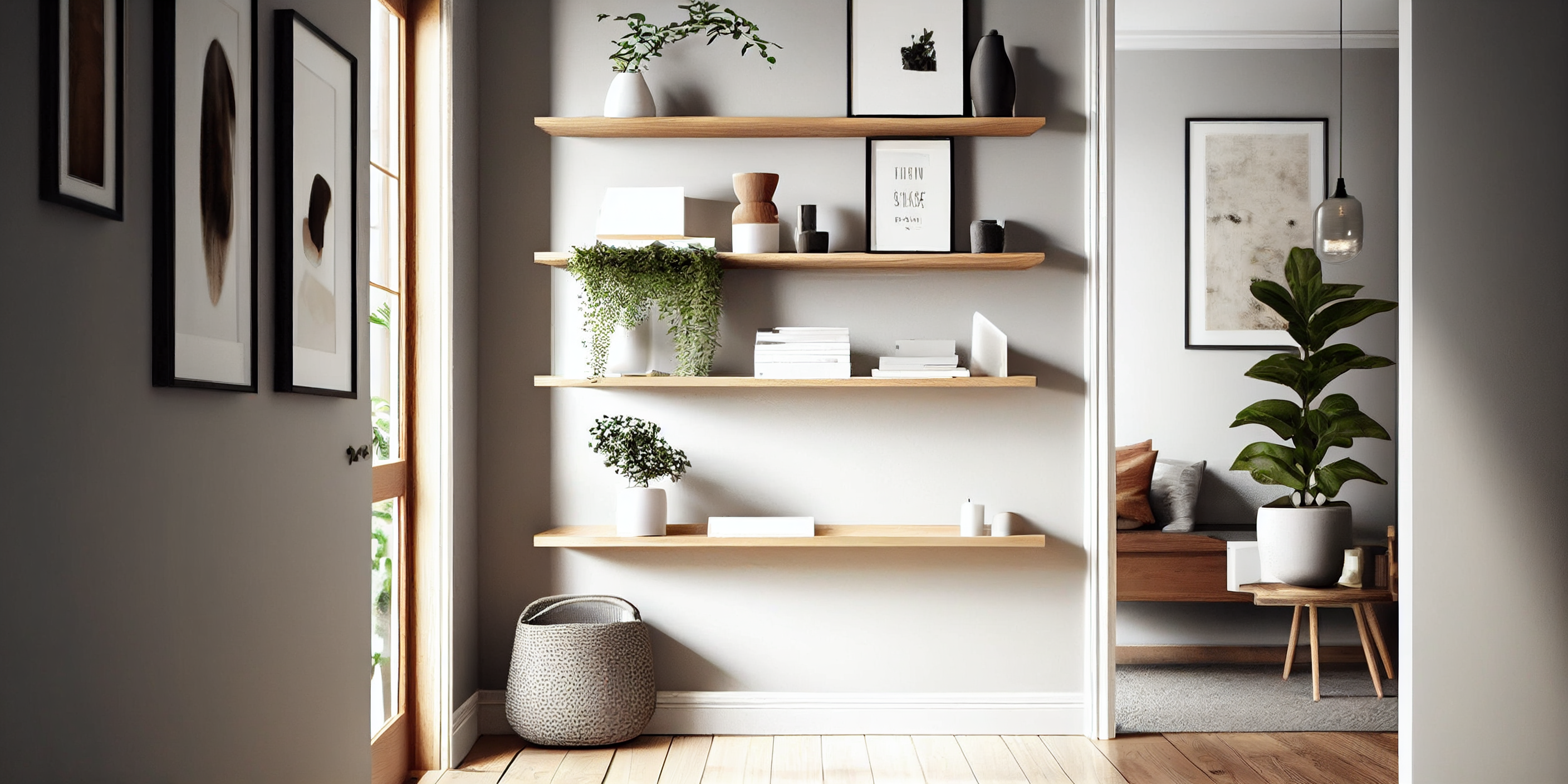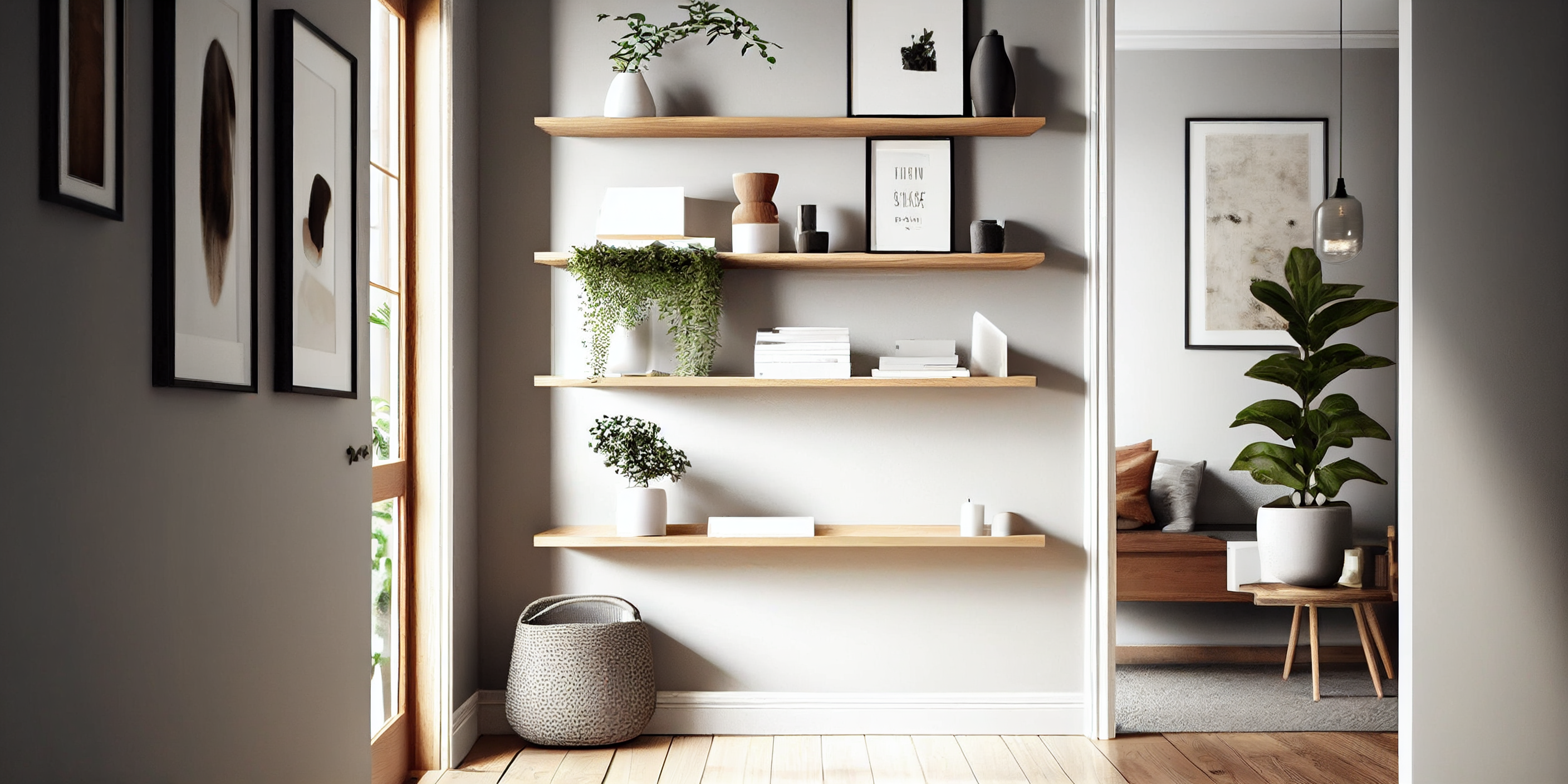 Choice of beautiful brackets
We stock a range of iron wall brackets and wooden brackets to compliment our wooden wall shelves.
Stunning oil and paint finishes
Choose from a selection of eye-catching wood oils and paints to create the perfect wooden shelf for your home.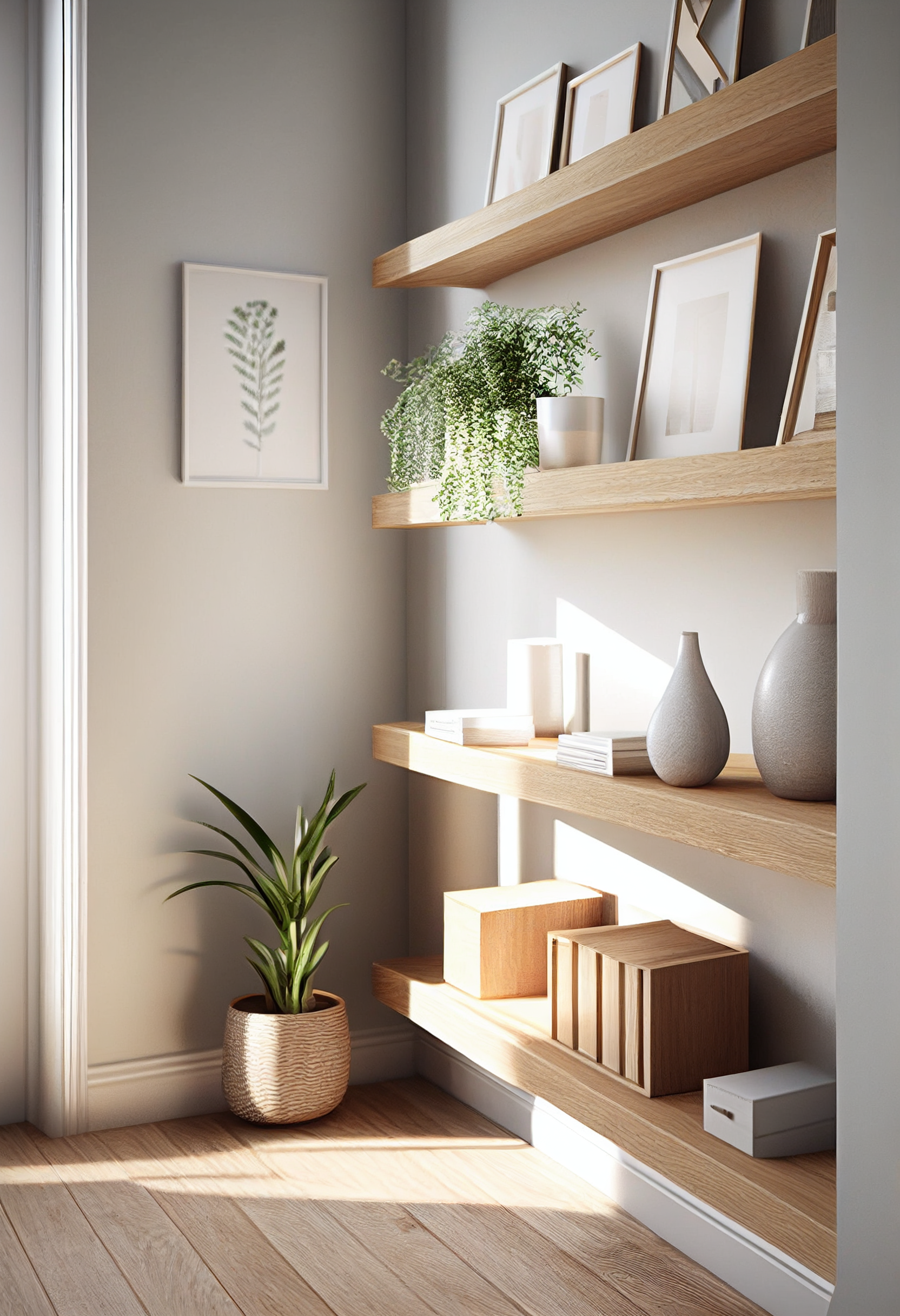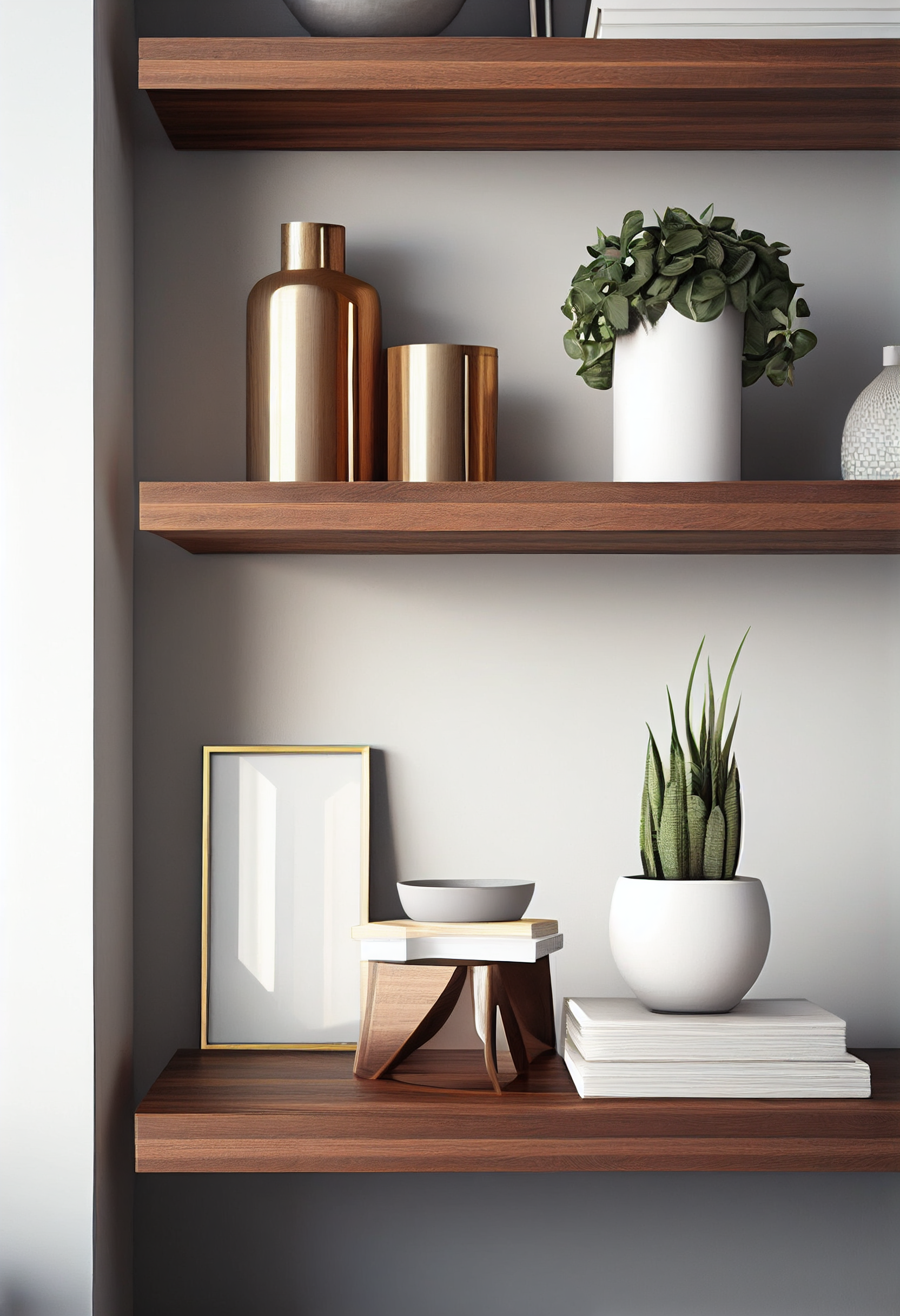 Bespoke shelving
Cut to size wall shelves
As manufacturers of our own range of wall shelving, we are able to work to exact measurements. If you can't find the size that works for you, our trimmed to size options offer the flexibility you might need when ordering.

We try to cover all bases when creating our shelving range. As such you will find small wall shelves that are ideal as decorative shelving or when placed in locations that are limited on space, to our large wall shelves that create stunning focal points in any room. The standard options we have cover sizes from narrow to wide, short to long and slim to more heavy duty chunky wall shelving.

If you're working to more precise requirements then we can provide custom wall shelves too. On each product page we have a 'trim to size' option to allow for cutting down to an exact size, whether it be in length, width or both.
Modern to rustic
Wall shelf style choices
As with our other shelving ranges, our wall shelves can be ordered in several styles from modern to rustic or reclaimed. Within each style are sub-styles which are variations of that "look" so that you're sure to find the shelf you like.

As an example, within our range of rustic wall shelves you will find light and heavy rustic variations of shelving, making it easy to find the exact size and style that you like. We've perfected techniques to make rustic shelves look natural whilst adding character and detail to achieve the desired industrial look.

Within the styles of wooden wall shelves that we make you will find many size variations and timber choices, including oak, walnut and pine. We make all from our UK shop to ensure a stunning result no matter your requirements.
Recent articles
Read our wall shelving buying guides for interesting examples, use-cases and how to get the most out of your wall shelves.