Floating shelf collections
Hold tight, new products are almost ready and will be added here very soon.
Continue shopping
About our floating shelves
One of our most popular ranges of wooden shelving is the floating shelf. Do away with visible shelf brackets and choose one of our styles of floating shelves in a size and finish to suit any room.
Floating shelves in a range of timbers

As woodworkers with years of experience in supplying timber shelving to happy customers, we pride ourselves in being able to provide a comprehensive range of natural wood floating shelves in a variety of thicknesses, widths, lengths and styles. Furthermore we offer our floating shelves in different timbers and wood finishes so that you're sure to find the shelves that will look best in your home no matter what the style.

To ensure that we cater to our customers requirements, we use a few different timbers. This includes our highly popular ranges of pine, walnut and oak floating shelves. Each timber offers different appeal in terms of the colour, grain, character, and weight of the finished shelf, though no matter which timber you like, all offer excellent value for money.

Our walnut floating shelves are naturally darker in colour than pine and oak, and offers a rich finish that looks stunning when complete. For those that are after something more traditional, our range of oak shelves are highly popular, and for good reason. They're full of character, crafted from high quality kiln dried oak timber and available in a wide range of sizes, styles and wood finishes.

In addition to the walnut and oak timbers that we use for our wall mounted floating shelves, is the pine range. Being a softwood, pine floating shelves are lighter in weight and sometimes more ideal for use as floating shelves, depending on the thickness, width and length that you're after. The best floating shelves for your home will also depend on where you're planning on fitting them. For decorative shelves, our walnut, oak and pine shelves are perfect with each offering different qualities to suit any room.

As with our other floating shelf timber ranges, the pine collection features fantastic styles and wax oil or painted finishes that really add the wow factor to these shelves. No matter which timber you prefer, rest assured that our attention to detail ensures that you will receive a finished shelf certain to impress.
Styles and specifications to meet your requirements

Though our range of floating wall shelves are highly popular, we also have or soon to introduce other styles such as floating picture shelves and cube shelves that look fantastic and are available in the same timbers and wood finishes as our wall shelves.

We use high quality timber for all of our floating shelves, styled to a modern or rustic finish. We also have reclaimed timber, that possess history and character, and offers the opportunity to buy a truly unique piece of shelving.

The floating shelves that we have for sale are available in a wide range of sizes, styles and finishes to help you find the exact shelf you're looking for. Choose from among our rustic, modern and reclaimed styles, several different thicknesses from thin, to thick and chunky and a variety of widths from narrow to deep. We also have all of these options available in different shelf lengths from short to long with custom requests available too. Check out our floating shelf collection and feel free to get in touch if you can't find what you're looking for.
The floating shelf system
When fitted, our wooden floating shelves appear like they're, well...floating! The brackets that we use remain hidden from view, allowing for a true floating shelf effect and are easy to fit into the pre-drilled holes in each supplied shelf.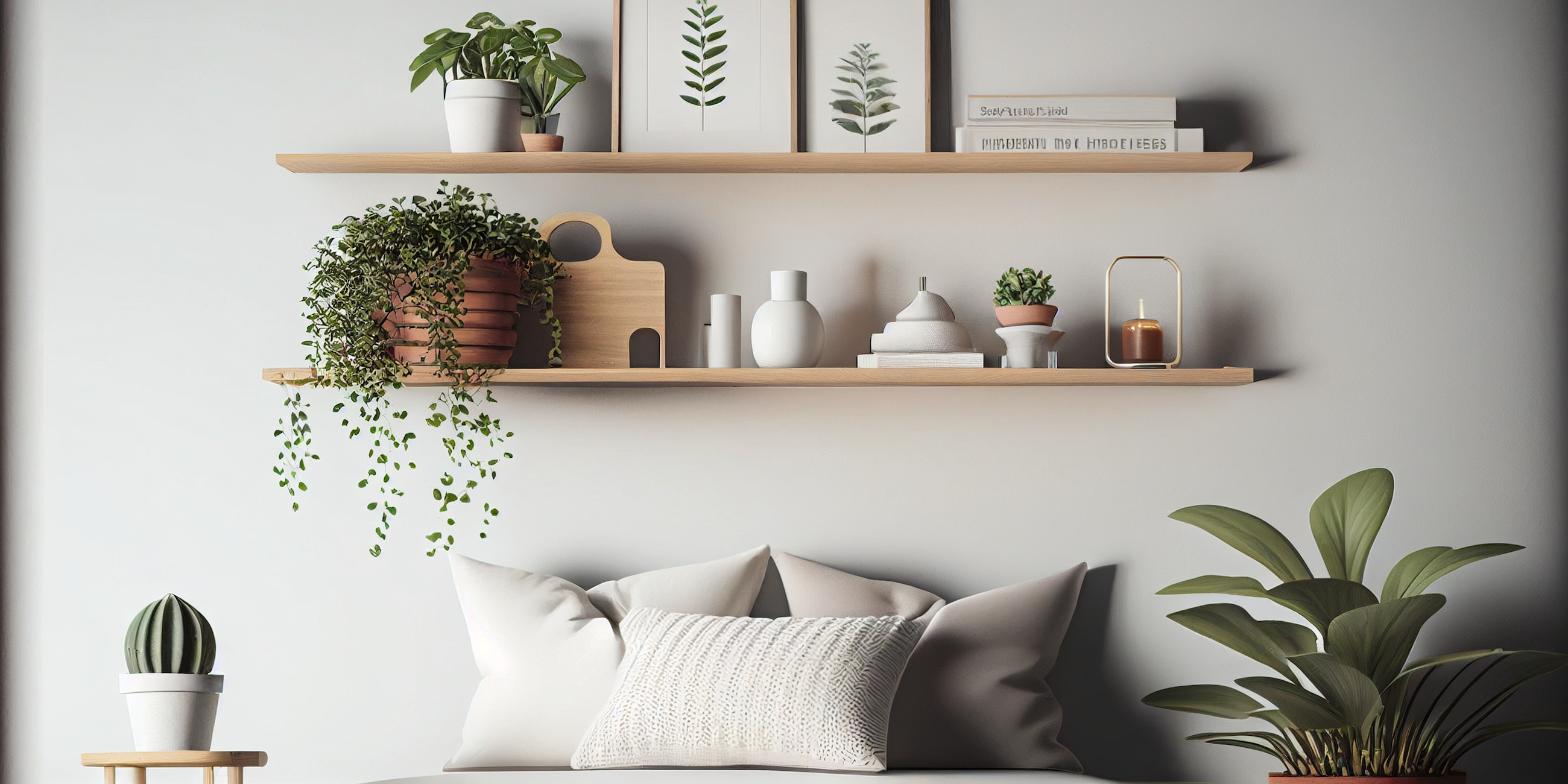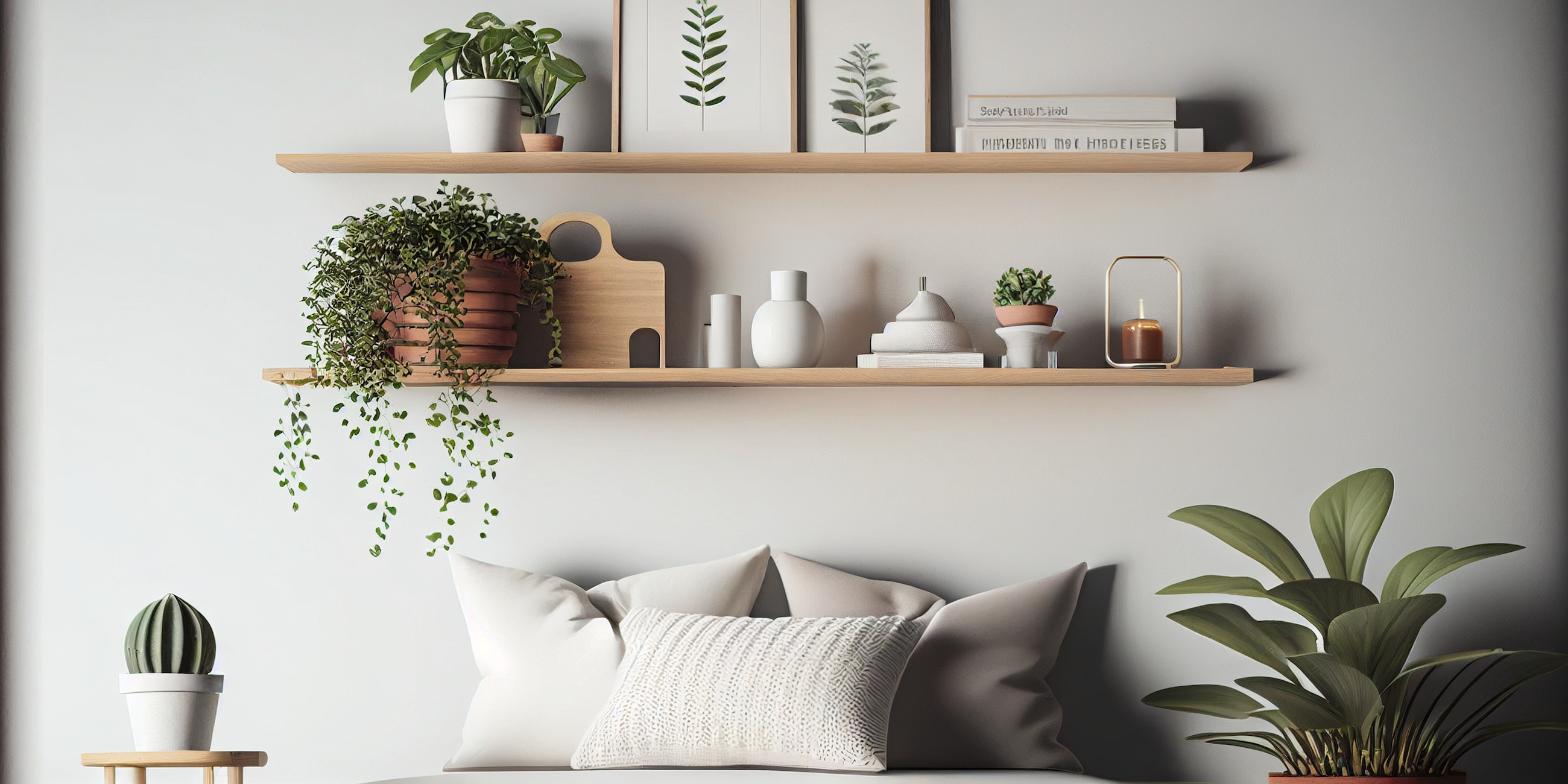 Choice of finishes
We offer a selection of wax oil and painted finishes on all floating wooden shelving.
Choice of styles
Our floating shelves are styled in a modern or rustic appearance to suit any home decor.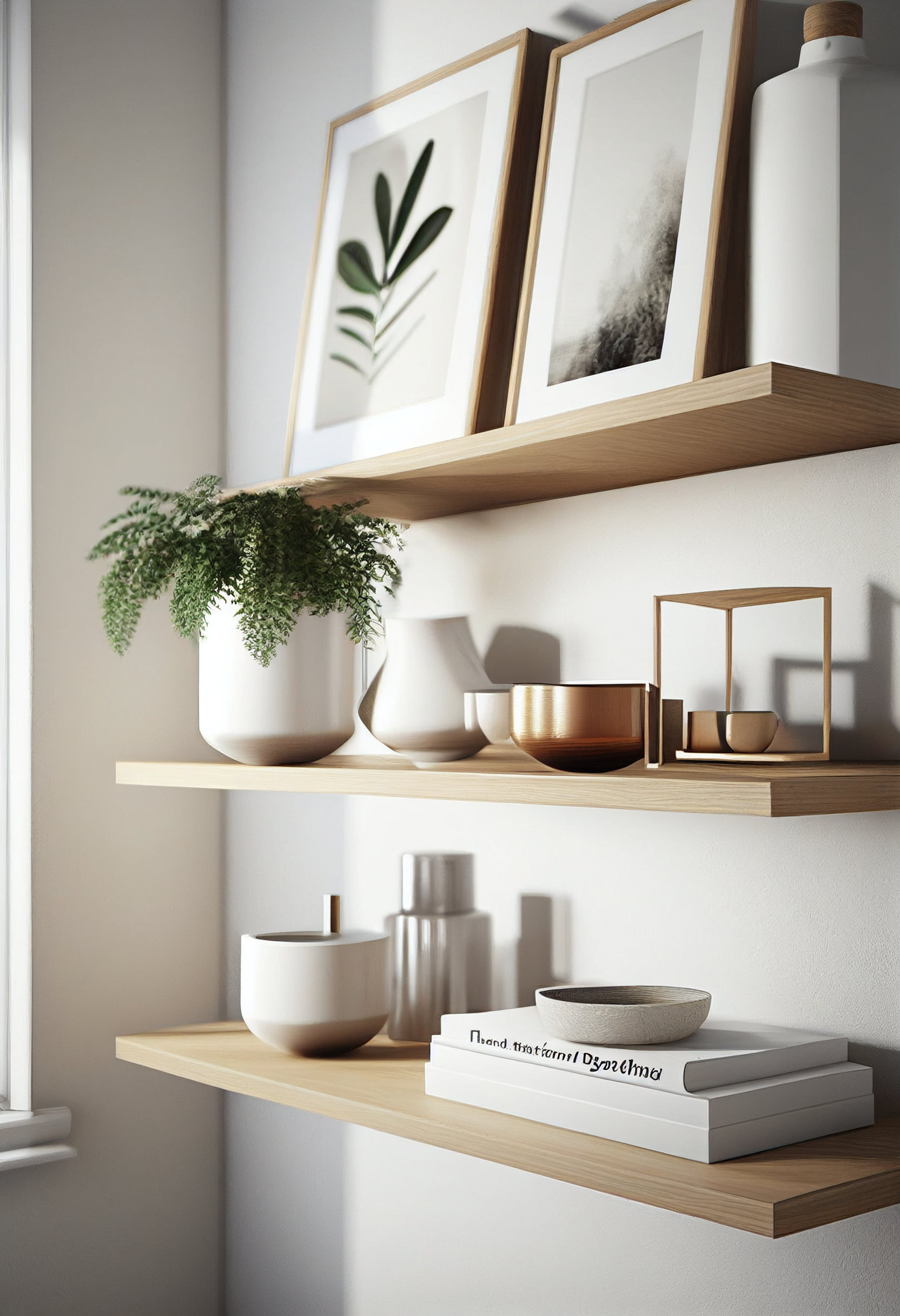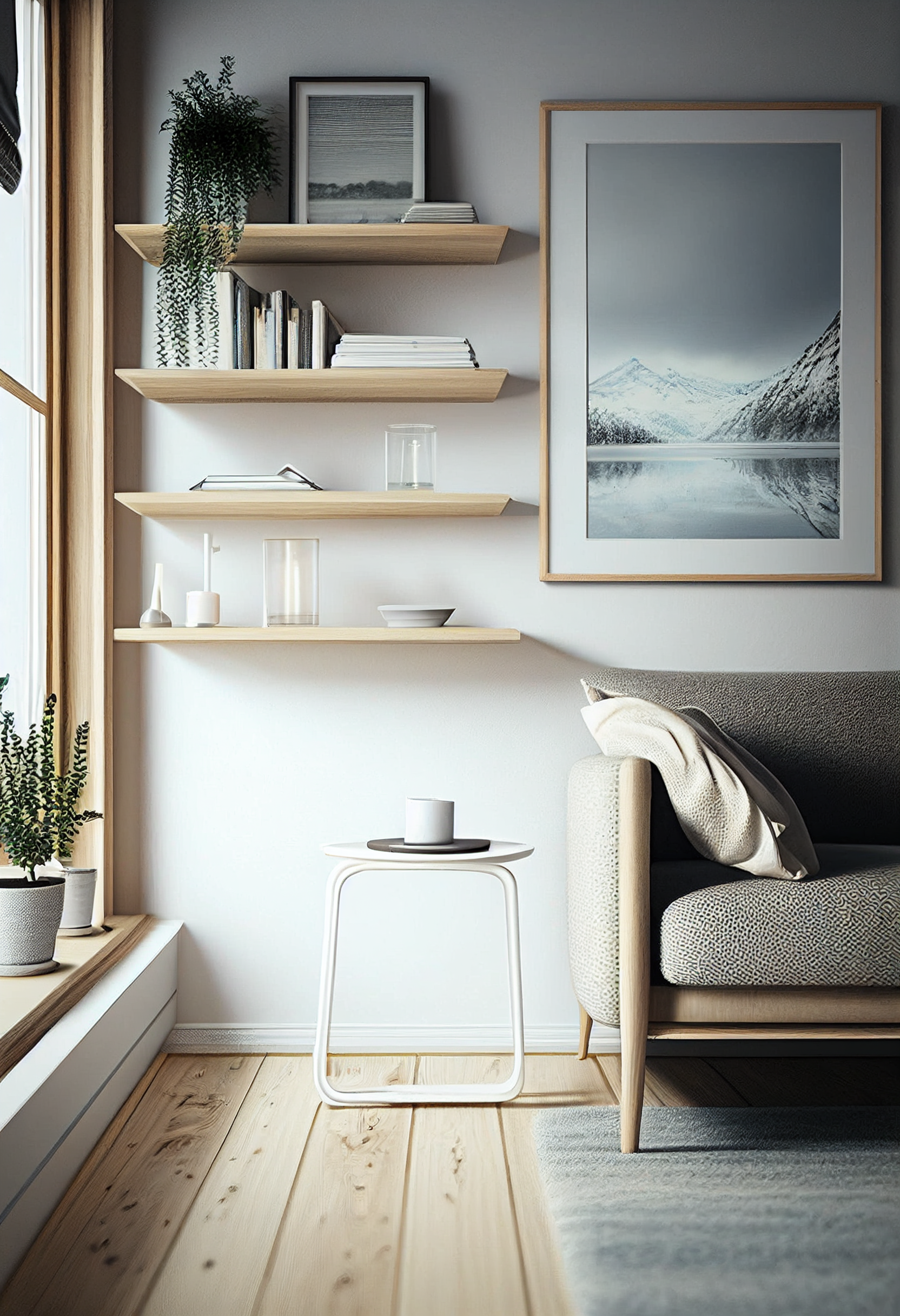 Hardwoods and softwoods
Choice of shelf timbers
We machine and supply our timber floating wall shelves in Oak, Pine, Walnut and Ash so that our customers have a choice in terms of appearance and also price. We have a wide selection of floating shelves no matter the budget.

Our finishing options available on all of the floating shelving ranges offer the ability to find your ideal colour, having already selected the perfect length, width and thickness. The final appearance can be further customised using our modern or rustic styling.

Being manufacturers of our own wooden shelving ranges, we can also create bespoke floating shelves in the wood, style and size that you require. Get in touch should you need something you can't find as we can usually facilitate extra long or wide floating shelves too.
Bespoke sizes and shapes
Custom floating shelves
As with our other ranges of wooden shelving, our high quality floating shelves can be made to measure to suit almost any size, in any style and in any of our wood finishes. Have something out of the ordinary? Get in touch and we'd happy to discuss your ideas.

Our floating shelf product pages have standard length and width options to choose from, and optional free trimming to size. Whether it be small floating shelves to fit in an alcove or where wall space is often limited, such as a bathroom or bedside, or long floating shelves to create focal wall displays in kitchens, living rooms or hallways we have the variety you need.

Similar to our length options we also have different depths and thicknesses to select from. We have narrow to deep floating shelves, and slim to chunky shelving with more heavy duty bracket options available too.
Recent articles
Read our floating shelf buying guides for useful tips and advice on buying, installing, and maximising the use of floating shelves.